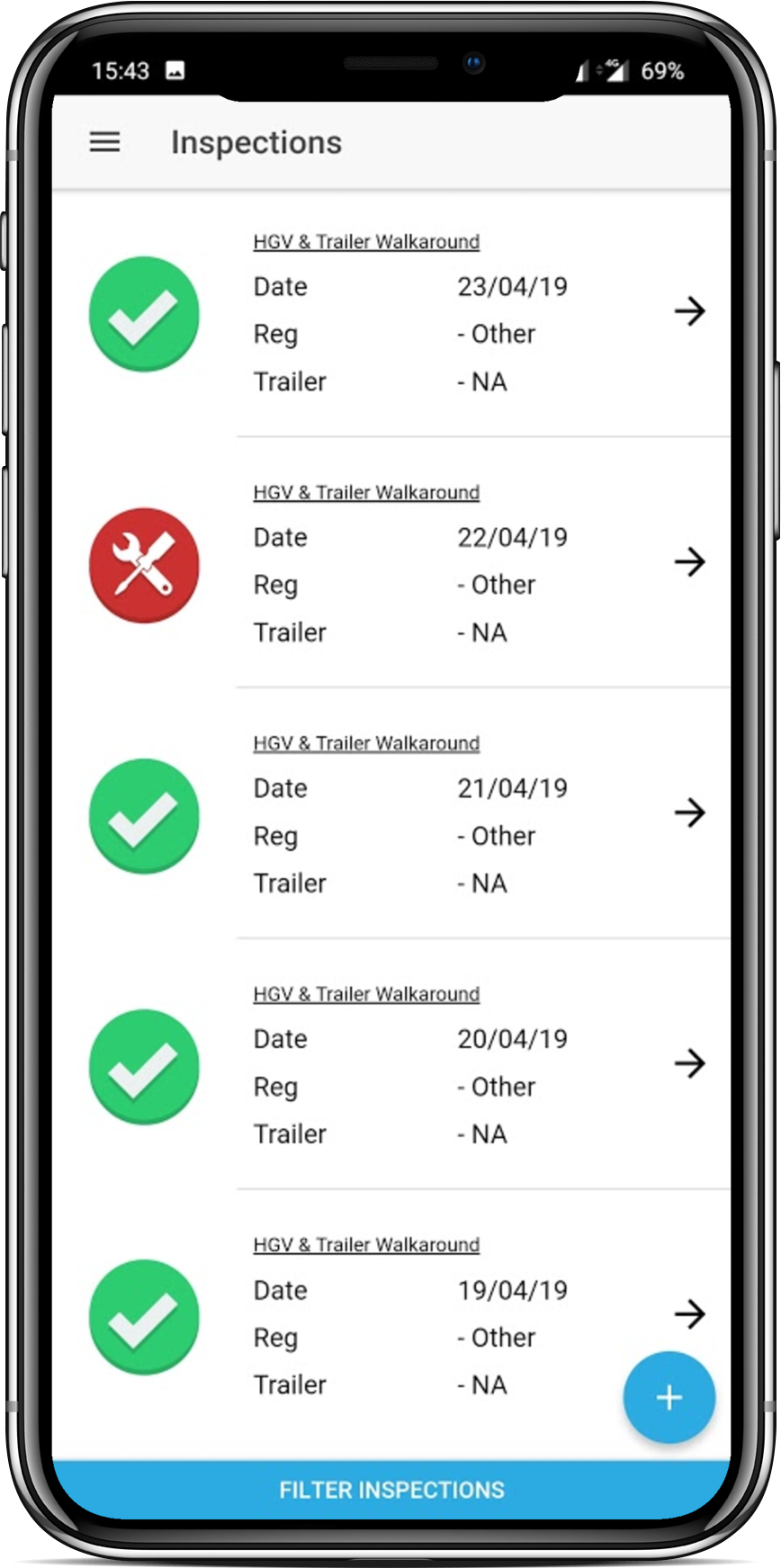 Make your transport business 100% compliant with Data Trak Vehicle Daily Checks
Data Trak Vehicle Daily Checks (VDC) is a mobile app for commercial drivers to complete their legally required daily vehicle inspections and defect reporting. Data Trak VDC captures all of the information required by DVSA inspectors and then stores all inspections securely in the cloud indefinitely, massively reducing your paperwork.
Compatible with both Android and Apple mobile phones the VDC App digitalises the conventional vehicle defect card by allowing drivers to complete a daily walk-around check from their smart phone or tablet. With its easy-to-use interface, the driver completes the inspection screen by screen while moving around the vehicle. Once completed the inspection is then uploaded to Data Trak's secure cloud-based servers. It even works offline in areas of poor mobile signal, storing the inspection on the phone until the connection is restored.
Manage your drivers' inspections effortlessly with the VDC Portal
All your drivers' daily vehicle checks can be accessed and printed by simply signing into our web-based portal. Using this allows you to easily spot which drivers have failed to complete an inspection the same day, ensuring you are DVSA compliant. As well as this, the portal can also print defect reports, look up the inspection location, create new and customize existing vehicle inspections for use with the app and manage your drivers, vehicles and trailers.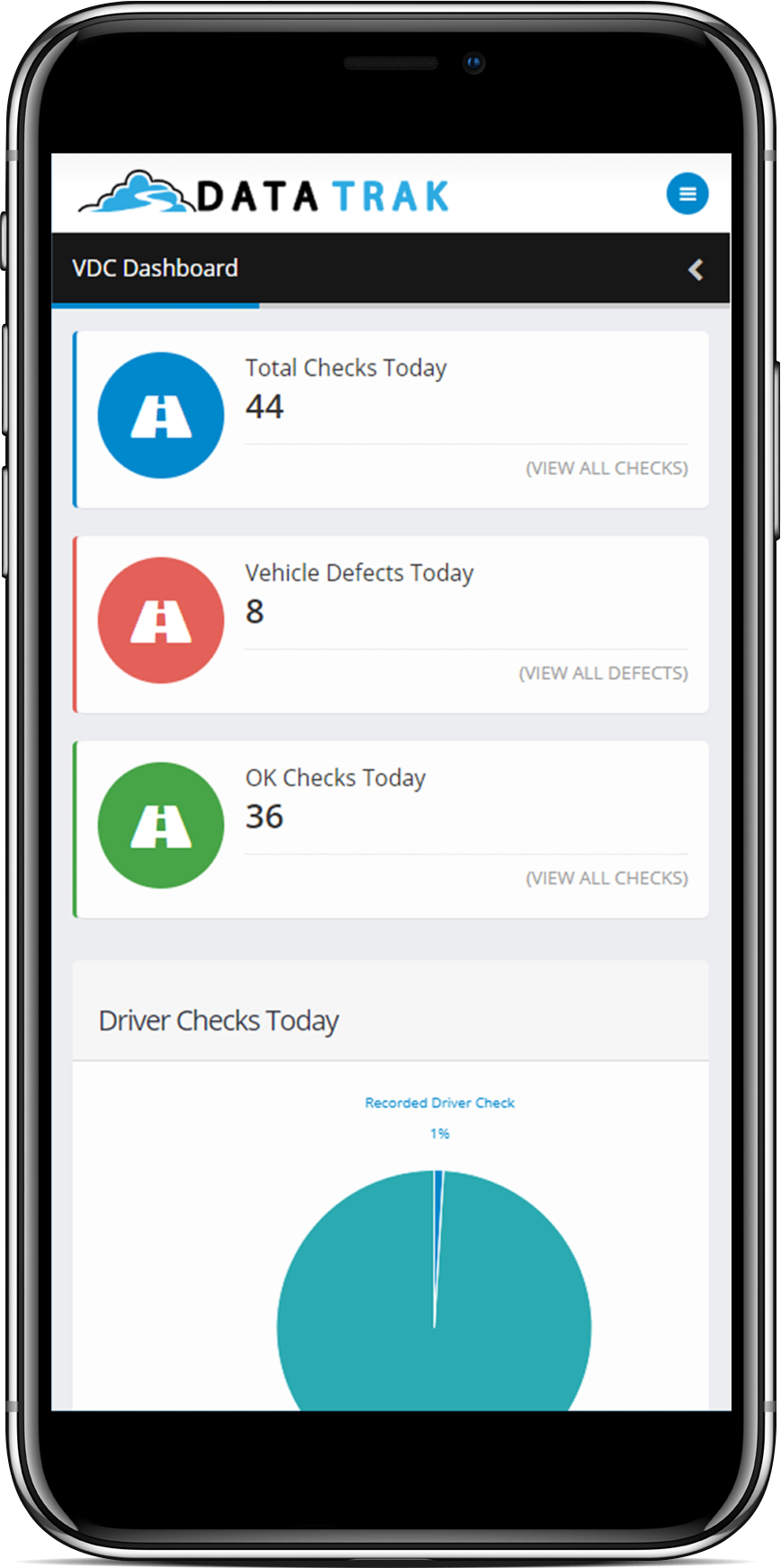 Contact us today for a demo of Data Trak

Why go paperless?
| Features | | Paper-based |
| --- | --- | --- |
| Records and shows GPS Location of where the check was performed | | |
| Monitors time and movement to ensure check has been correctly carried out. | | |
| Automatically receive defect notification via your prefered method (email, sms, etc). | | |
| Report defects to workshop automatically. | | |
| Defects include photographs to use as evidence or for workshop reference. | | |
| Get insight information in to your business with data analytics. | | |
| Reduced storage space. | | |
| DVSA Compliant. | | |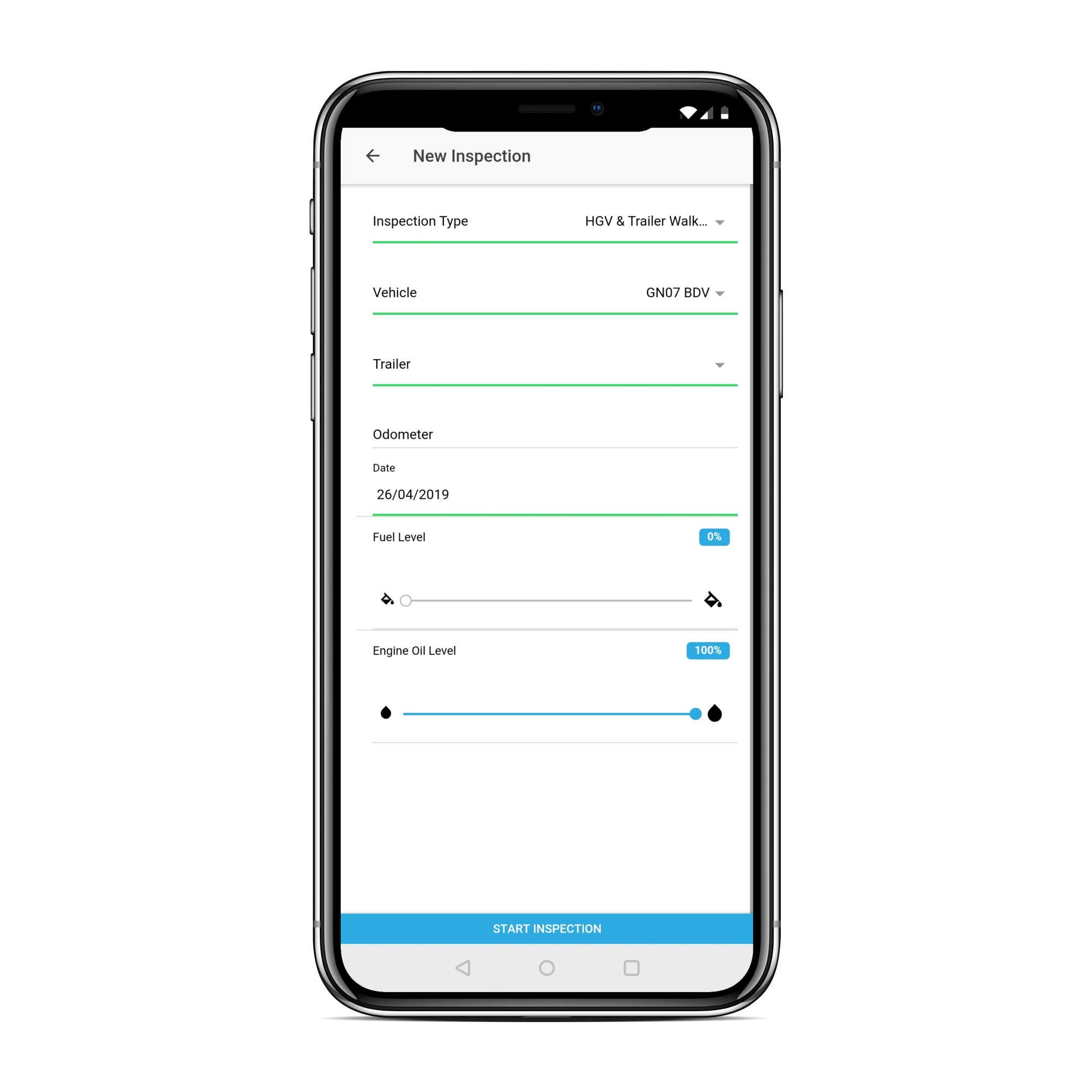 Start a New Inspection
The driver starts a new inspection on their phone and picks the correct inspection. They then enter relevant information such as Vehicle and or Trailer, Odometer, Fuel and Engine Oil Level.
Complete Checks
Next, a screen is shown for each check in the inspection and the driver must either mark it as OK or defect it. If they defect a check they must add a description of the defect and can add pictures if needed.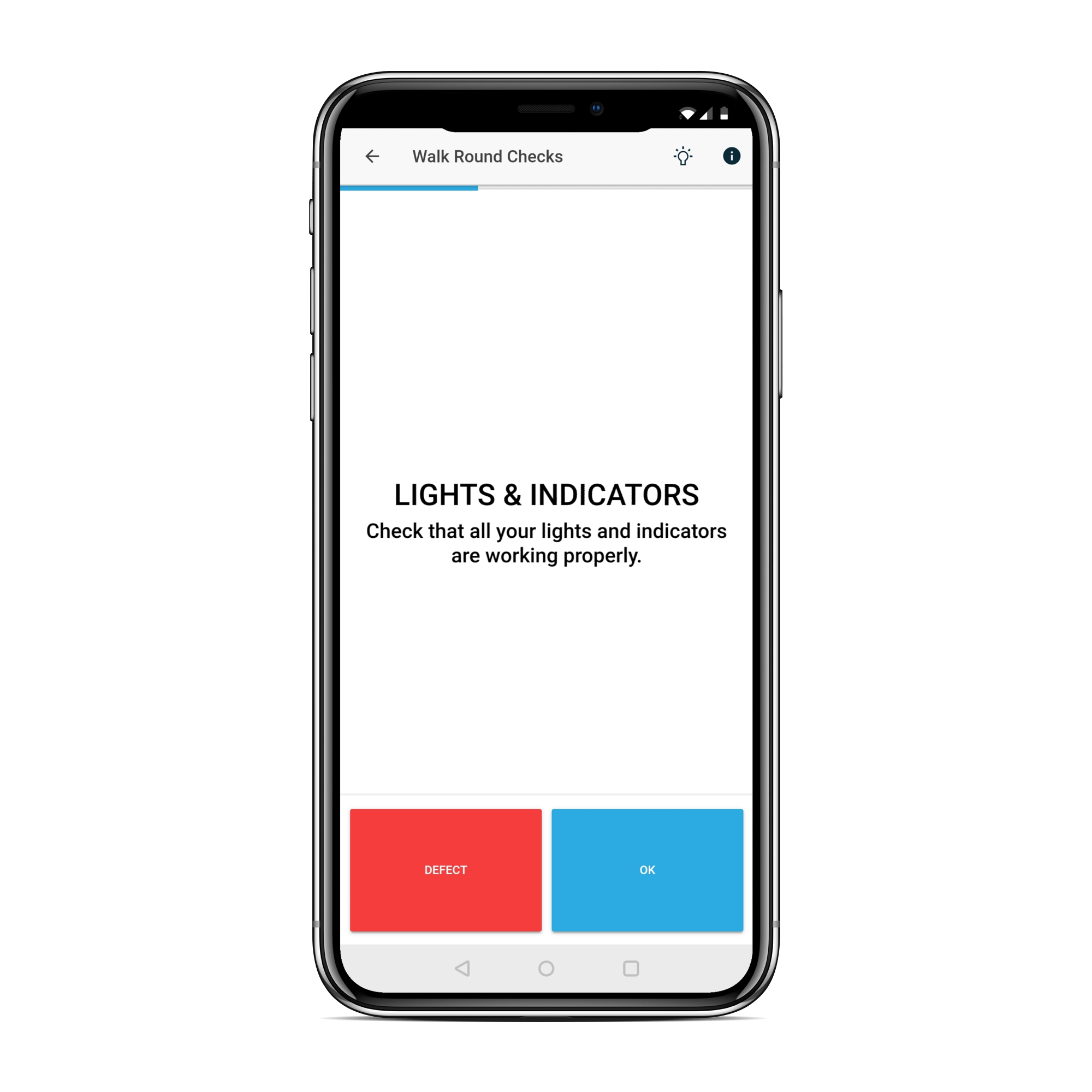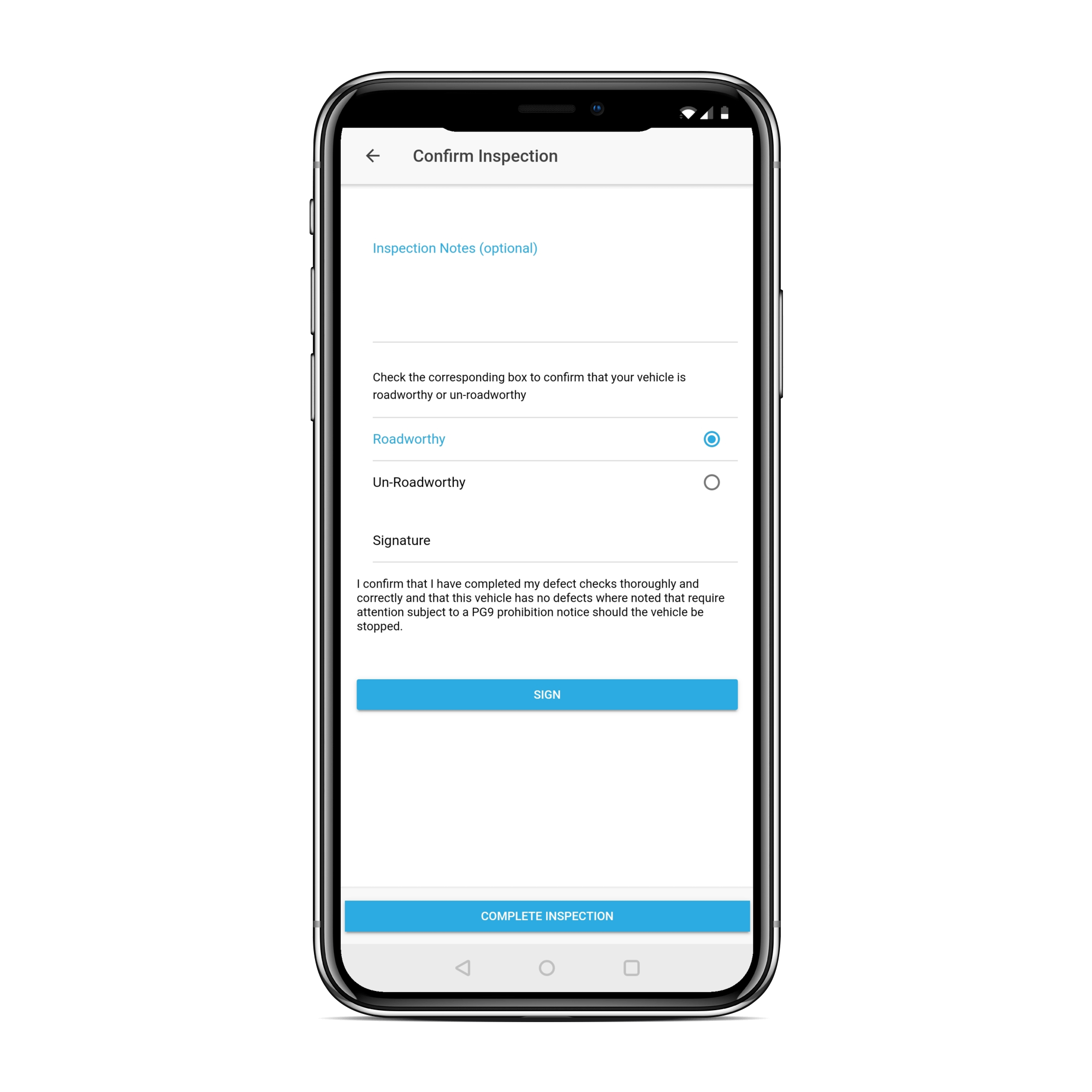 Complete Inspection
Once all the checks are completed the driver must, if a defect was recorded, mark the vehicle as roadworthy or unroadworthy. They can then choose to add any additional notes and finally they must sign the inspection.
Review on Portal
The phone then uploads the inspection to Data Trak's cloud-based servers. The inspection appears in the VDC portal and can then be printed or emailed as a conventional vehicle check report.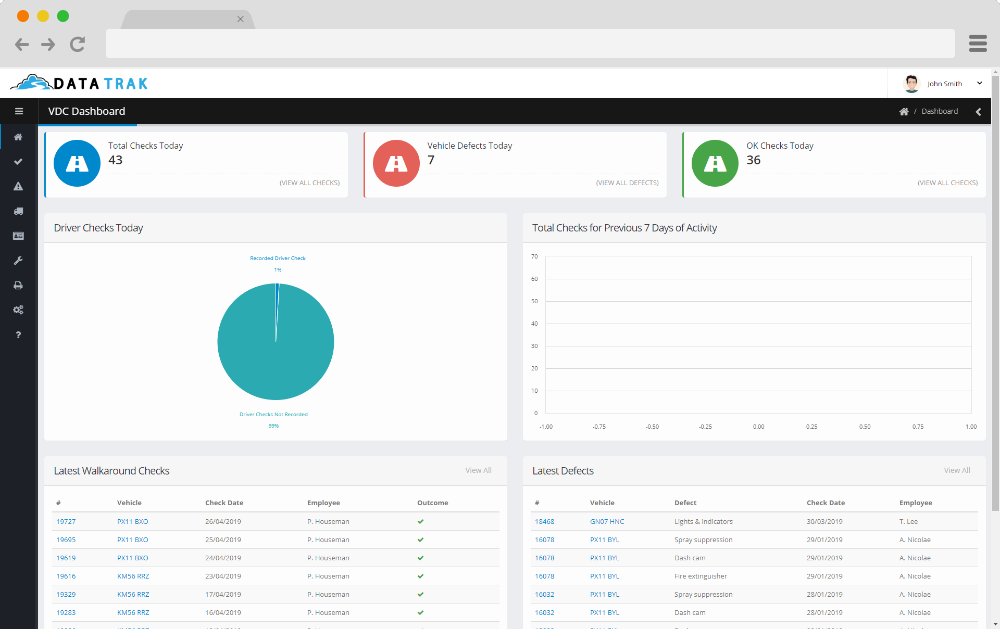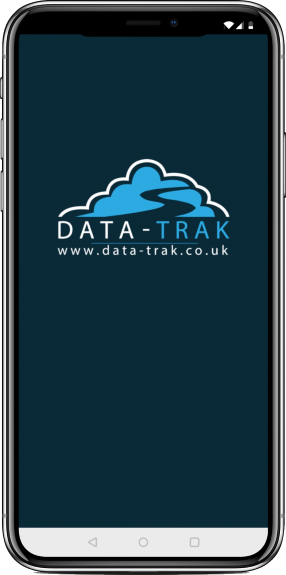 Contact us today to start using Data Trak VDC
Contact Us
Our mobile app is compatible with both Android and iPhone mobile devices as well as Android and iPad tablets devices. Click on the relevant app store link to download now.